Most look, many observe, some see, few imagine, very few invent, almost no one creates.
Maurizio Mamiani
Philosopher (1942-2002)
Personal Identity
With over 20 years of experience Personal Identity is an Italian company specialized in decoration projects and supply of high-end furnishing accessories for private residences, superyachts, private aircraft and corporate offices. The service, based on a one-of-a-kind project grants a "one stop shop" experience, i.e. having a single reference for the supplies of accessories for both interior and exterior décor. Personal Identity handles every stage of the decoration project, from the initial analysis of the desiderata up to the final supply and the worldwide products delivery, with a constant quality control.
The company works for a wide and diversified international private clientele and collaborates with architects, interior designers, real estate developers and shipyards providing them with a unique specialist service on high-end decor.
Personal Identity is an authorized retailer of over 150 luxury brands and works with the best artisans on the market, providing the most complete range of porcelain, glassware, tableware, leather goods, linen, contemporary art objects and any other type of high-end accessory for interior and exterior decoration, displayed in the large showroom in the headquarter in Parma, Italy. We also possess a unique expertise on the design market of bespoke objects produced through a network of excellent artisans in Italy, accurately selected throughout many years of experience and meticulous research, with several dozens of unique pieces made.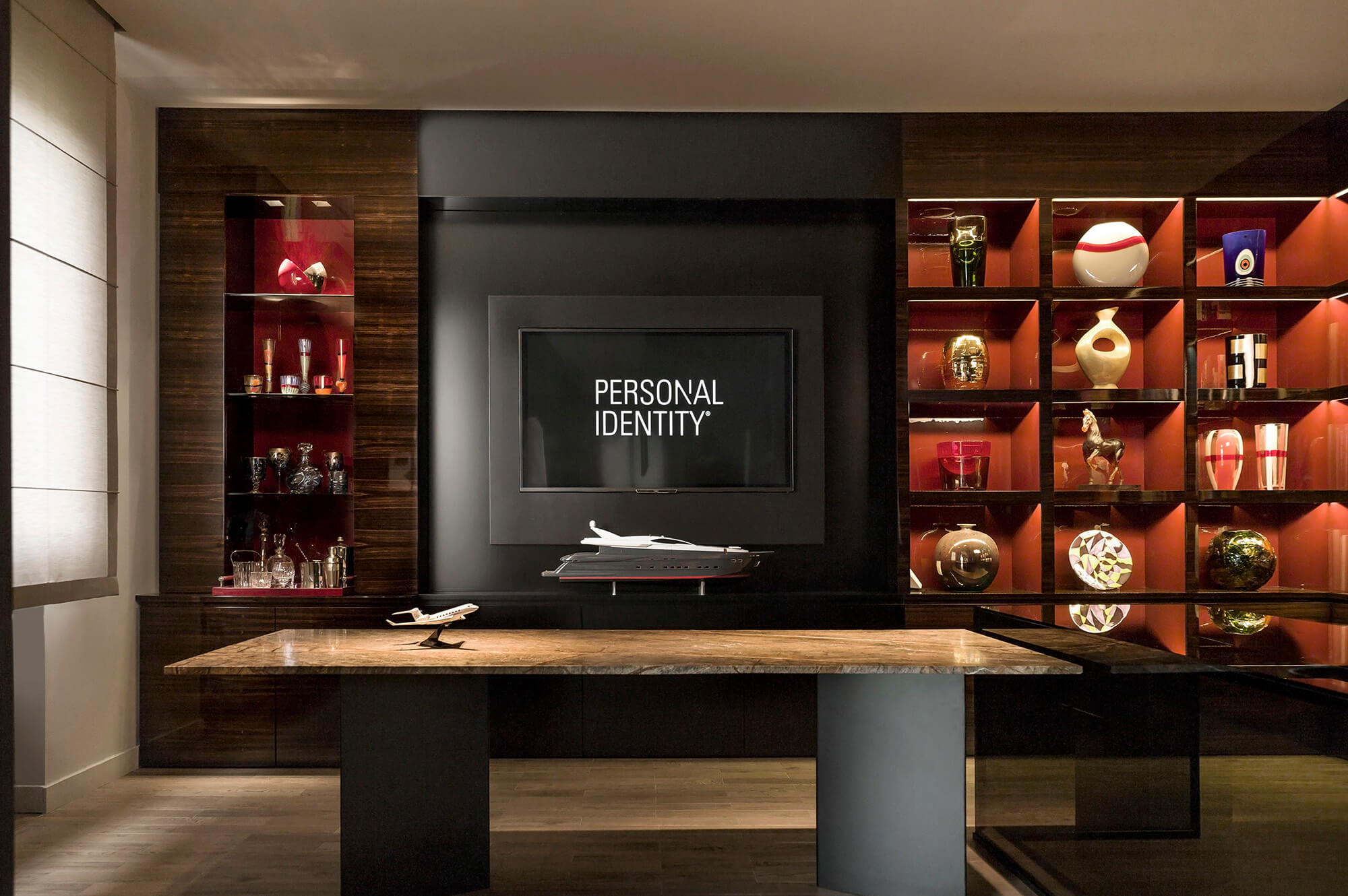 Personal Identity in 2007 has been the first company in Italy to offer a specific one stop shop service on decoration with a proposal of over 150 high-end brands.
Luca Mamiani
Founder / Art Director
Strong of a long and consolidated experience in industrial design and branding field for important and successful international brands, since the end of the 90's with his wife Ilaria he decides to follow at a professional level his great passion: decoration and interior styling.
Pioneer in the one stop shop service, at the beginning of the 2000s he was one of the first in Italy to offer customers a centralized supply service related to all types of furnishing accessories.
Drawing inspiration from the innate Italian taste, both elegant and cosmopolitan he has developed a unique style characterized by minimal elegance, modernity and chromaticism. Therefore, enabling a service capable of representing the most disparate desiderata of the client, from classicism to minimalism. Over the years he has developed a unique knowledge on the techniques of construction and on the precious materials, due to the continuous visits to the workshops and factories.
Luca has received numerous professional awards throughout his career and his works have been published internationally by various magazines, such as Architectural Digest, Superyacht Design, Interni and Vogue.
Ilaria Calunga Mamiani
Art Director
After a career as a model for some agencies and fashion houses in Italy she devoted herself successfully to tourist activity, opening and managing her own accommodation.
For several years she has been working alongside her husband Luca Mamiani in the interior decoration activity bringing, in the role of art director along with sensitivity and eclecticism, a deep technical knowledge in the kitchen, reception and art de la table.
A lover of oriental contaminations and natural materials, she contributes with her pragmatism, great concreteness and efficiency to every stage of each project.
Recognition / awards
For several years, Luca Mamiani and his team have been present in the media as opinion leaders and trend setters on the world of decoration, high-end interior design and excellent bespoke productions. Personal Identity is frequently quoted in interior decor publications and in commercial and financial newspapers, including the titles above.
Media & PR contacts:
Email: info@personalidentitydecor.com
Telephone: +39 0521 291513